How Emphasis Sets the Scene for a Large Country WaterSpace
Emphasis: Setting the Stage for Outdoor Entertaining
You feel the good mood approaching as you enter the covered porch at the rear of this country home. Whether you've arrived for a daytime pool party or an evening dinner, you'll likely be greeted by enticing aromas rising from the food prep area—set below ground level so as not to obstruct your view. This is the view that sets the scene, that assures you this is going to be a delicious experience.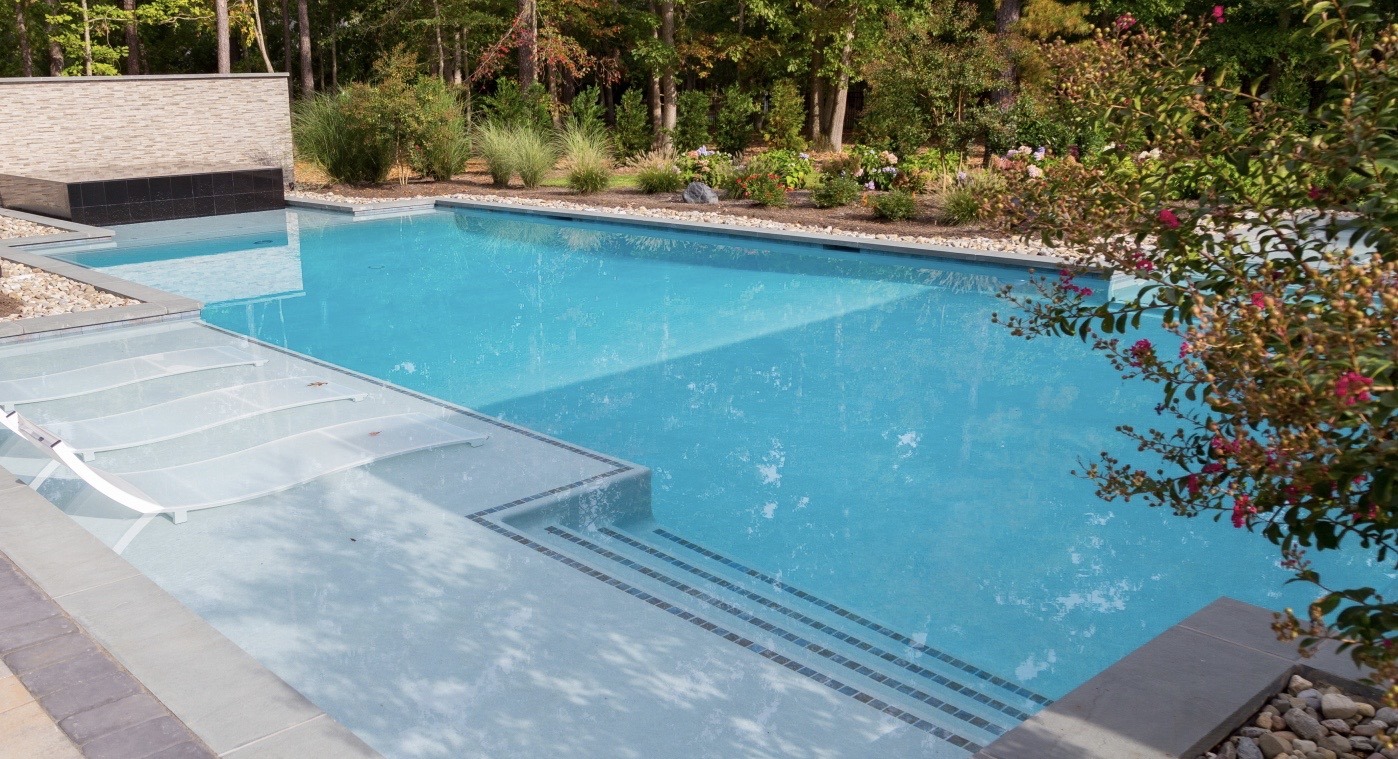 An invitation to enjoy: your first view sets the scene for an entertaining experience
How Emphasis Focuses Attention
You may recall this scene from a previous article, "The Art of Emphasis: How Focus Adds Appeal to Your Outdoor Living Space." Center stage you see a spa rising from the far end of the pool. Note how the spa is emphasized by its black tile set against a light, creamy wall. Like buttery French cream sitting atop a mug of dark black iced coffee, this is how contrast makes things livelier in your outdoor living design. Contrast is just one of the tools of emphasis employed in this design.
The power of emphasis also directs your eye by framing the view with the white roof you're standing under, two white pillars on either side, and a black marble countertop completing the frame. Emphasis is at work through the repetition of a shape—the spa, the creamy wall, and the frame all repeat the same rectangular shape. Color is repeated in the black spa and marble counters. Repetition is the key element here in creating rhythm. As in music, rhythm in design keeps all the pieces playing together in an orderly manner. We will be discussing rhythm more in the next installment of our series on the six principles of design.
Rhythm suggests movement. One of the most powerful forms of movement in water design is reflection. In the above picture, notice how the pool reflects the shapes of the spa and wall behind it. Note how the pattern of light reflecting off the pool is repeated in shiny black marble counters and how reflection adds a touch of blue pool color to the white roof and pillars.
This is a scene where your mind says, "go explore."
The Setting
At this point you may find yourself wanting to get a closer look, but first, let's go overhead to view the major elements of this design.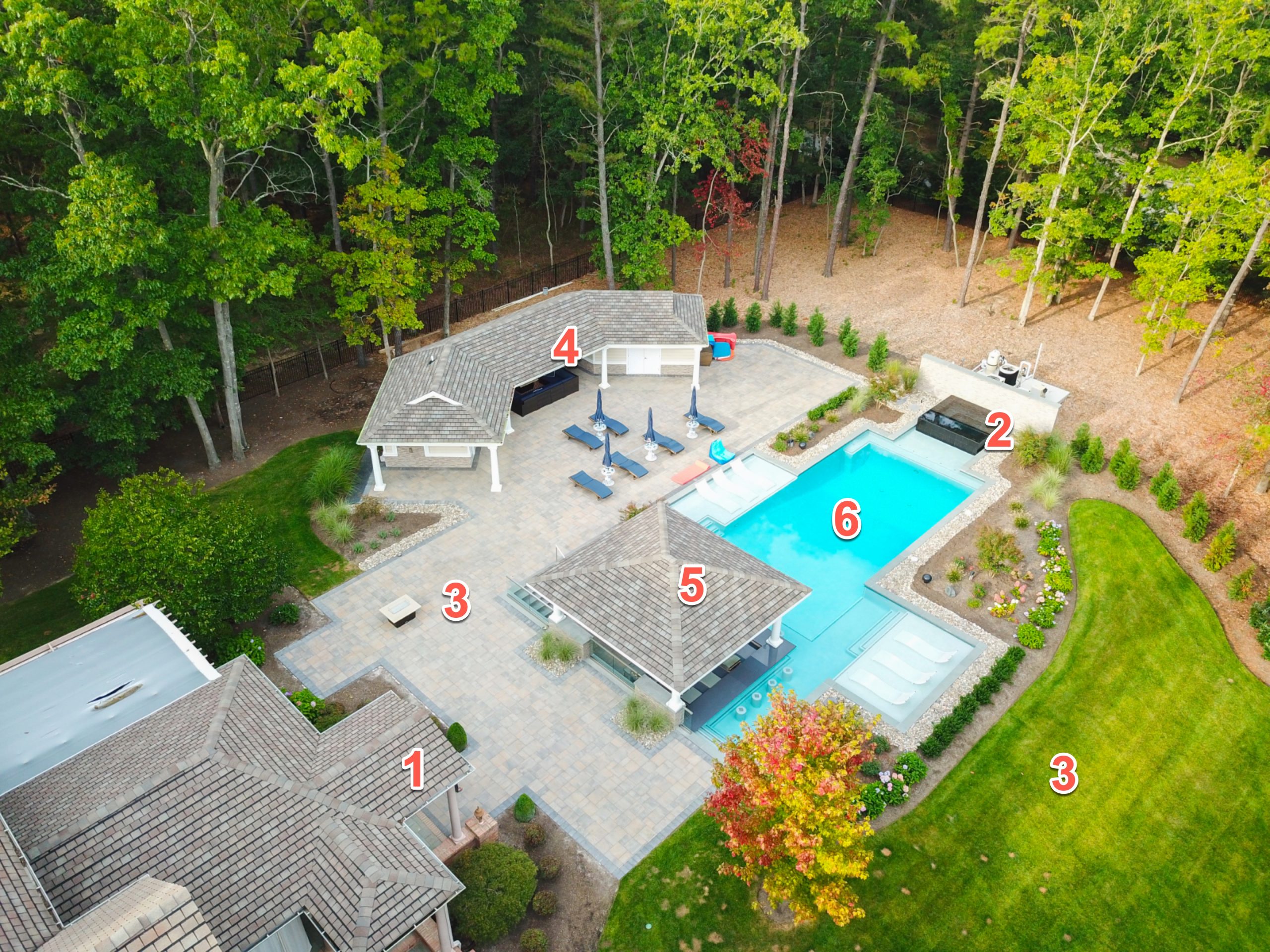 A stage set for entertaining: 1: Covered porch 2: Infinity Edge Spa 3: Lawn and patio 4: Outdoor living room with large TV, bathroom, shower, and storage 5: Food prep area and swim up bar 6. Swimming pool with sun shelfs on two sides
Designing Space for Entertaining
The homeowners wanted a pool design that enhances their large outdoor space, which they use frequently for entertaining. They had initially thought of putting a large pool horizontal to the home, but this would have created a barrier to accessing the rest of the yard.
By turning the pool perpendicular to the yard, they gained better flow and accessibility. The spa, originally thought to be placed near the entrance to the home, could then be placed at the far end of the pool, creating a dramatic focal point, as we saw above in the first photo (above).
When entertaining larger groups, tables are placed on the patio and in tents erected on the lawn. For small, informal occasions, guests can take a seat at a bar in the kitchen area or on swim up bar stools (below).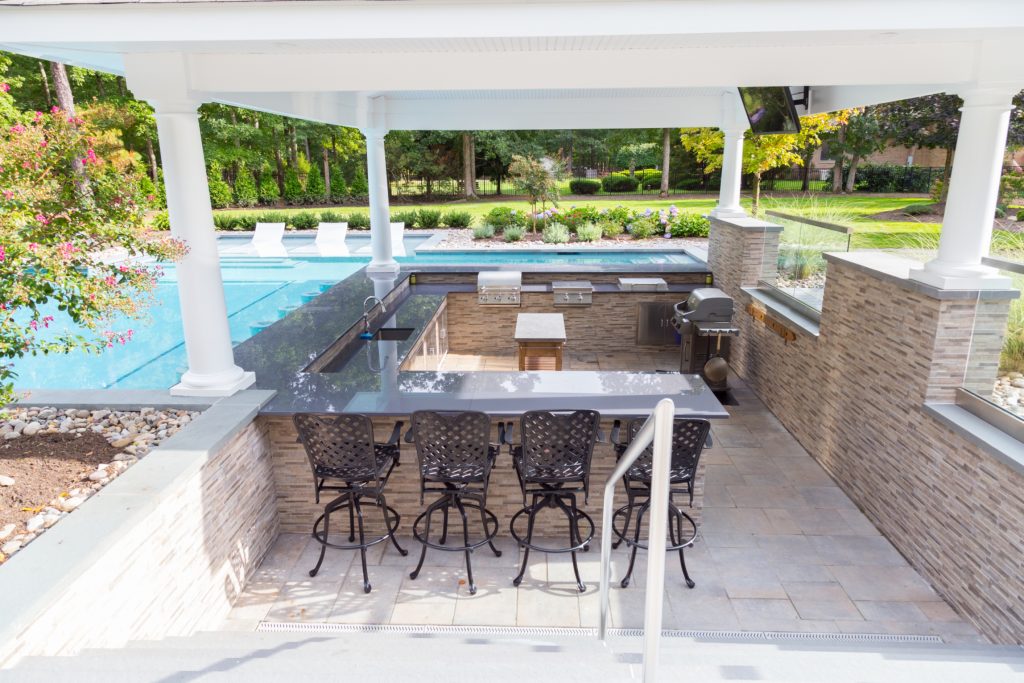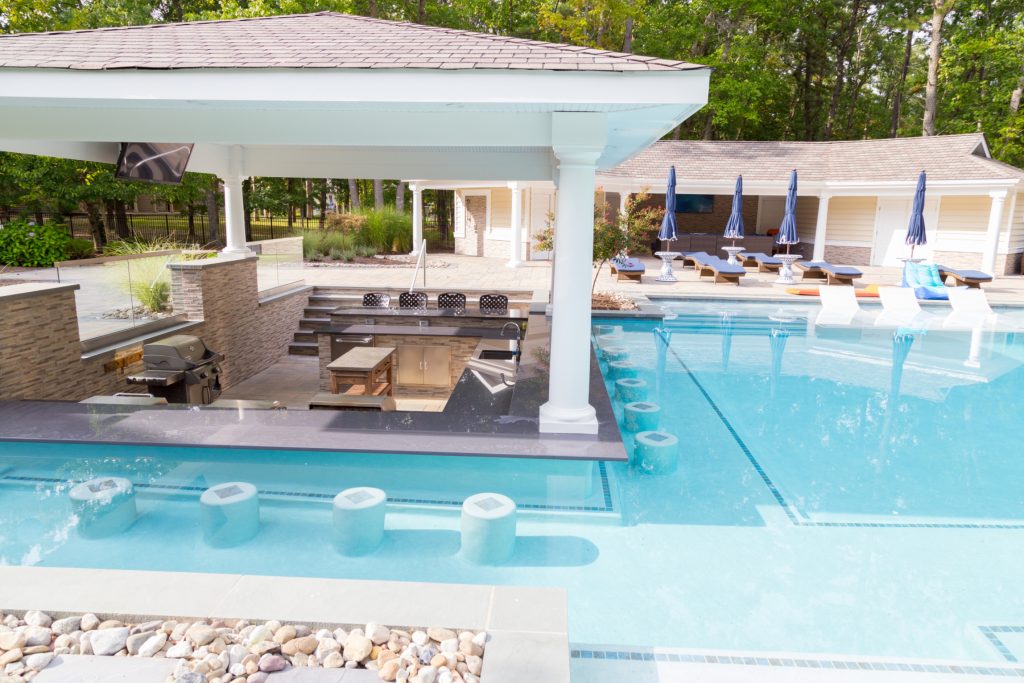 Food prep area: Includes full kitchen facilities and grill for the chef, plus a swim up bar with stools, and a table area for those who prefer to stay dry
A Space for Reflections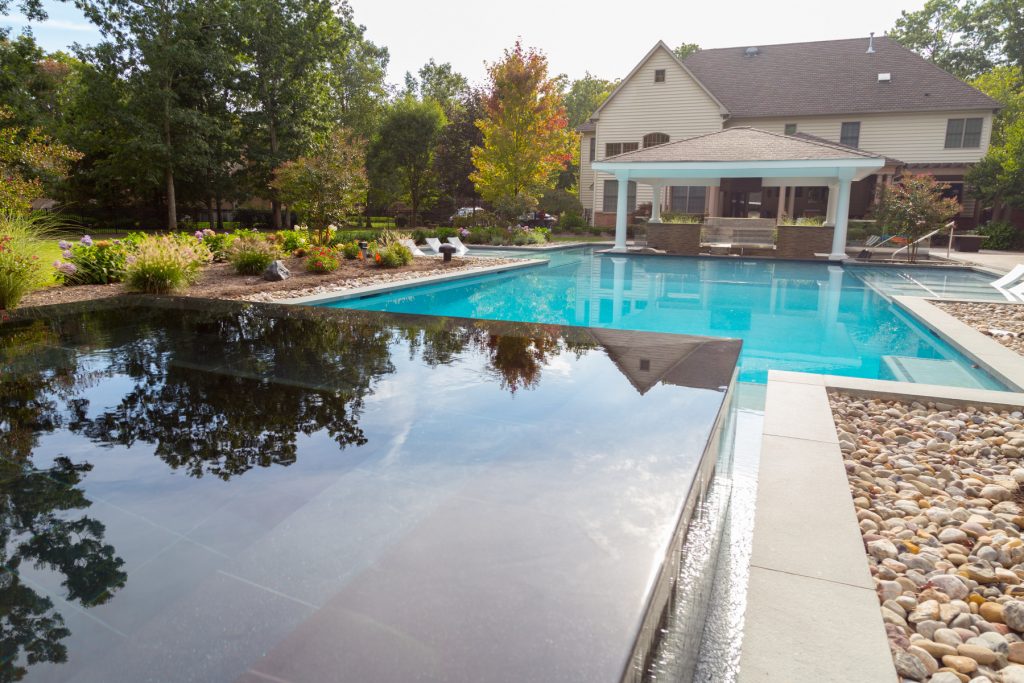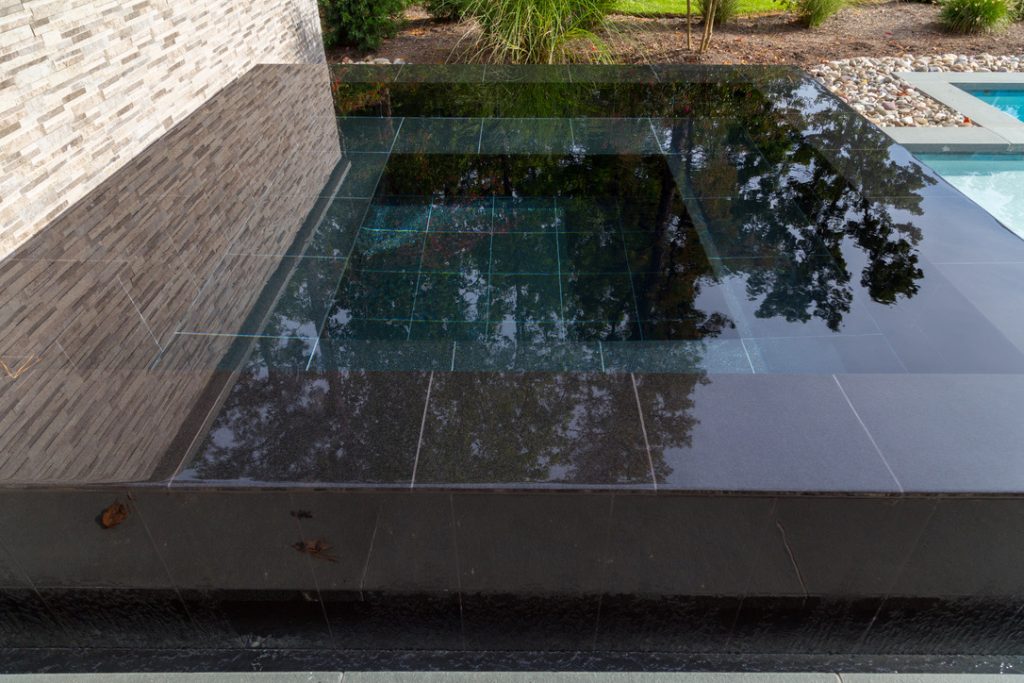 The Spa Up Close: Water from the infinity edge spa spills into the adjoining pool
At the opposite end of the home's WaterSpace, a black tiled infinity edge spa provides this mirror-like surface (above) that reflects trees and sky. Set off from the entertainment area, the spa also provides a spot for peaceful reflection and relaxation.
Harmony in Water, Space and Built Places
You may recognize the design style: formal and yet modern and contemporary, in concert with the home's architecture. Even if you didn't think consciously in those design terms, your mind would recognize and feel comfortable in this balanced space. In "Creating Harmony Through Architecture, Water and Space," we explored ancient ideas about using water and outdoor space to create harmonious spaces in homes. It's worth repeating a quote from Winston Churchill that appeared in that article: "We shape our buildings, and thereafter they shape us." The same can be said of the space we create that brings outdoor living into our homes.
In her book, "The Extended Mind: The Power of Thinking Outside the Brain," science writer Annie Murphy Paul devotes a chapter to "Thinking with Built Spaces" and another to "Thinking with Natural Spaces." She discusses the emerging scientific evidence—along with millennia of human experience—that demonstrate how humans need harmonious settings, indoors and outdoors. Human joy and creativity thrive in environments that help set our minds free.
Paul cites Christopher Alexander, an architect and emeritus professor at U.C. Berkeley. He is author of "A Pattern Language: Towns, Buildings, Construction" (1977) and wrote, "a person is so far formed by his surroundings, that his state of harmony depends entirely on his harmony with his surroundings."
When we entertain the idea of creating our own WaterSpace, we have the possibility of bringing our outdoor space—the natural space—and our indoor space—the built space—into harmony. It turns out that when you build a more humanly enjoyable space, you've created a place where people think more creatively and interact more productively with other people.