Discover the Hidden Power of Reflection

If you

'

re looking to make the best of this new normal, try turning staying home into a better daily experience.

In "Graceful Reflections," a new article at WaterShapes.com, Anthony Archer Wills writes about the "potency of water's reflective nature." As a pool designer and builder, I think his article reveals a secret especially relevant now.

Consider how this unprecedented virus has turned our homes—for now and perhaps forever—into our most important safe place for work and leisure. Beyond its new workplace and schoolroom duties, homes now serve as our main—sometimes only—venue for entertainment, relaxation, exercise, retreat, or dining with family and perhaps a few friends.

I recently wrote about homeowners looking to create a water environment in back yards that transform homes into a "staycation" destination. If you are looking for ways to reimagine your home. If you want to fill the void left by canceled travel plans and social distancing, "Graceful Reflections" shows why water's reflective nature should be part of your plan.
Time to think more about the view
There was a time, not long ago, when we built a pool to socialize, for parties and big family events. We built pools "for the kids" to play and learn to swim. Perhaps we wanted to swim laps for our health, or the pool became a place for practice as the kids progressed as competitive swimmers at school.
Even if some or all those uses are still a priority, the current situation has caused more people to take a broader view of what a pool can do. Before the virus, there was a growing trend to create pools as part of the landscape. Some home owners take the idea further and bring the outdoors inside. The waterspace becomes an important visual feature of the living space. When a pool enters into an indoor-outdoor setting, water views and reflections can become a year-around enhancement of the home environment.
Water as art that delights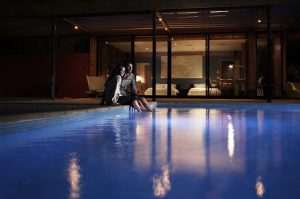 Archer Wills describes himself as a "watergardener." He's a landscape artist and master creator of ponds and streams that have been delighting customers and influencing the rest of us for many years. Every landscape architect and builder knows his work and the impact he's had on the industry.
His article on reflection brings attention to one of those often unnoticed but profoundly influential details that can delight—or disappoint. As Archer Wells demonstrates, you have to anticipate reflections that could present an unwelcome surprise, something you'd rather not see intruding on the scene. Artists understand reflections when painting a water scene. The pool designer or landscape architecture team has to account for water reflections even before your waterspace is created.
You know what you want to feel and experience—how you envision enjoying and sharing your water space. Your designer is there to help you realize your vision and see the reflections and all the possibilities and pitfalls that lie ahead. As Archer Wills writes, "What's so amazing about reflections is that, as watershapers, we have the opportunity to wield them in ways that create constant delighted enjoyment for our clients"
For good reflections look to location
In the first article of this series we looked at the space you have to work with when planning a new pool. In many ways the most critical choice you'll make is where to put your pool in that space. Even something so subtle as what your pool water reflects starts with your choice of location.
Water reflections change with how you orient the pool to the sun, where the shade falls, how shade moves with the sun, and the progression of sun and shade across the landscape as seasons change. How the pool is positioned to catch a breeze can transform a calm reflection into a dance of sunlight. I designed an infinity edge pool for a customer that created a waterfall feature for a lower level on the property. Up top, the sun did its dance on the flowing surface. The press of a button turned off the falls and turned the pool surface into a peaceful reflection of the sky.
Although Archer Wills largely provides examples and pictures of the ponds and streams you'd find on a large estate, many of his insights on water reflections can be applied to pools and yards of any size. As he points out, "Whether you think about what you're doing or not, working with water inevitably means working with its reflective qualities."
Reflections to inspire you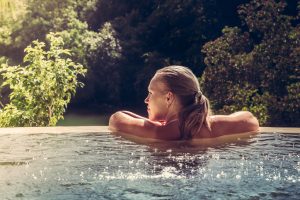 If you're thinking about doing something with water to make your home more uplifting, go here and read "Graceful Reflections." Whether you live on an estate or in a development with a small backyard, I think you'll find inspiration. Thanks to teachers like Archer Wells, when I walk into a home owner's yard, I don't just see the bare site. I see a rock's reflection in the pool, the way the pool will become part of its natural environment. The way it enhances the home's living environment. It's a visual skill, and "Graceful Reflections" can help you learn to see reflections more clearly, too.
I hope you're fortunate enough to work with a pool and landscape team that helps you find continued delight, even surprise, in your home. Look for someone with the artistic ability to discover those hidden reflections.
SHAPE COMES NEXT: There are so many ways water and space can work together to bring home magical moments of delight. In the third article of this series, we'll explore pool shape and organization.