75 Questions to Answer Before Starting Your WaterSpace Design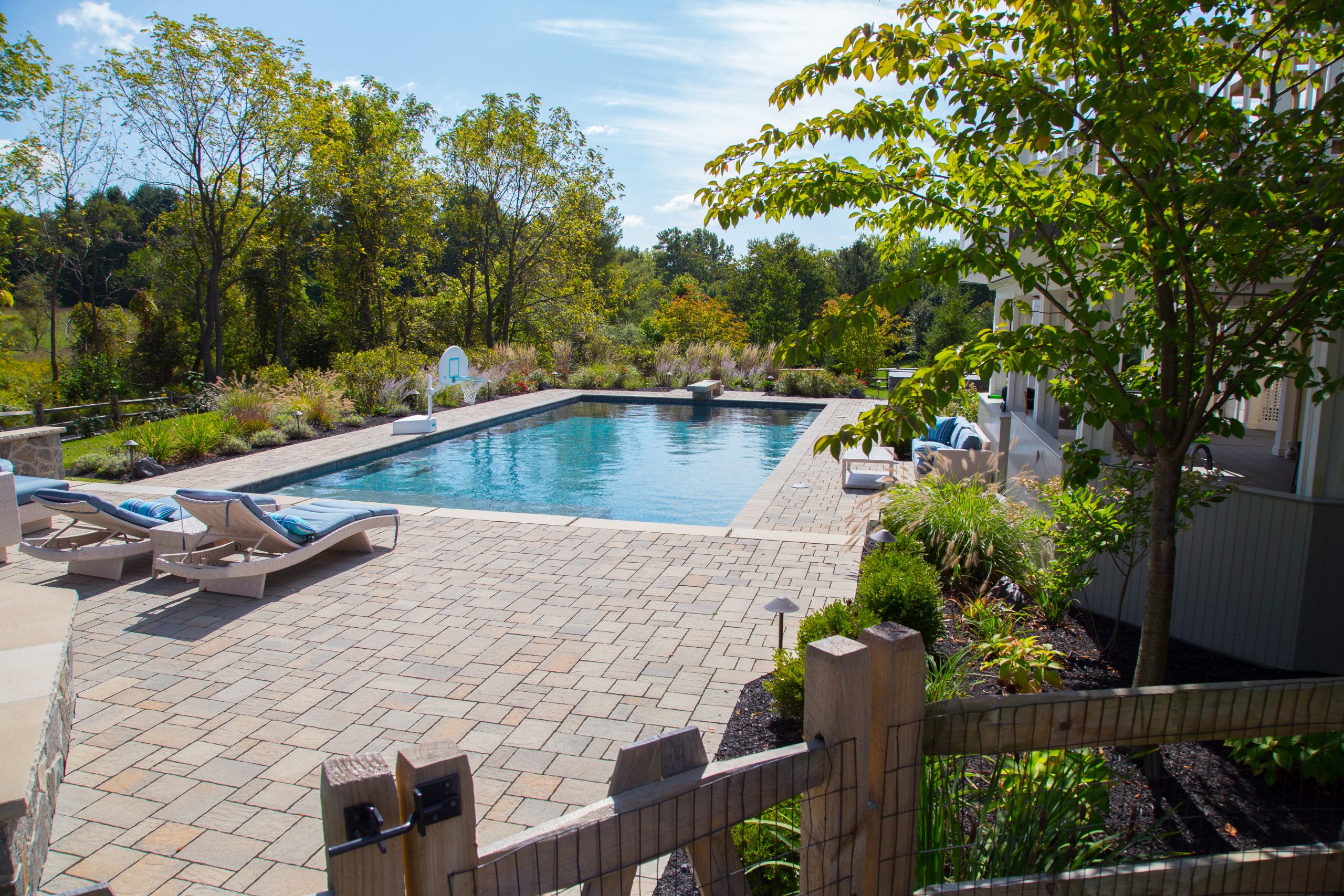 Let's examine the questions to answer before starting your pool design. I'll spare you the long list in this overview, but if you're planning to build a custom pool environment, be prepared to spend up to three hours in an onsite discussion with your designer or contractor. In my initial interview with clients, I'll bring a list of 75 questions or more.
Some questions are easy to answer, such as how many people are living in your home and what are their ages. Others are harder, and a few may require research.
Find and fix problems
You want to help uncover the problems early in the design stage, not after they've poured the concrete. In urban areas, the most frequent problems revolve around views and privacy. Even in less crowded locations, you may have a beautiful view you want to feature but need to hide something else.
Your designer has to anticipate how things will look from different perspectives, both outdoors and from inside your home. The design theme you prefer also comes into play at the beginning. It will help set the mood and influence where your attention will be directed as you move through your WaterSpace.
Barbecues, Outdoor Kitchens and Shelters
Poolside eating and drinking are at the top of many pool design lists. My own list of questions includes more than a dozen items pertaining to dining and entertaining. There will be questions about location of appliances, shelter, tables, chairs, entertaining areas, sound systems, and utilities.
What about Weather and Seasons?
Your weather and seasonal deliberations should go beyond the usual question of adding a heater to extend your pool season. Like today's restaurants, you may want to beat the cold or lessen summer's heat with heaters and fans.
You'll also want to provide shade from the sun's heat and shelter from a summer shower.
Consider, too, the direction of prevailing winds. You don't want the wind blowing rain or barbecue smoke into your poolside entertainment area.
The Natural Setting
Trees, shrubs and plantings contribute mightily to your WaterSpace experience. You'll be considering their colors and texture, and the amount of sun or shade required. You also want to anticipate their growth over time, particularly for trees and shrubs.
How much maintenance and pruning will be required to keep your bushes and trees in proper shape and size? How long will it take those specimen trees to grow tall and overshadow your pool or obscure your view?
Pools, Spas and Water Features
If you've owned a pool before, or have spent a good deal of time around pools, I want to know what you liked and disliked about those experiences. You need to talk about the kinds of swimmers who will be frequenting your pool: lap swimmers, loungers, kids at play?
What in-pool activities are important: a sunbathing shelf, lap lanes, volleyball, basketball, swim-up bar? What are the minimum and maximum pool depths you require? If a spa is to be included, there will be a whole set of questions revolving around the size and features you desire.
More Pool Details
What pool materials and colors do you like? What coping do you prefer: concrete, cast or pre-cast, stone, travertine, faux rock or brick? You'll want to plan for pool lighting and water features: water jets, bubblers, waterfalls, fountains and more.
Then there are mechanical and water purification choices to be made. Do you want totally automated systems? Do you prefer an ozone, chlorine, salt or mineral purification system? When it comes to maintaining healthy water, you want to be sure you're getting good advice and the right system.
Costs and Budgets
Sometimes I encounter clients who don't want to limit ideas with a pre-conceived budget. More often, one of the first questions on a consumer's mind is "what will it cost?" Your designer and builder, on the other hand, will want to know the budget range so you don't waste time on plans that don't fit the budget.
In most cases, home owners like to consider a range of options. Knowing the options and trade-offs helps them become more aware of the things that are most important. You may also want to learn about ideas that could go beyond the budget but would enhance your experiences and enjoyment.
Work, Timelines and Line Items
Once all your wishes and budget considerations have been taken into account, your designer/builder can develop a detailed timeline and cost estimate. Your estimate should provide you a line-by-line breakdown of anticipated costs.
Everything from herbicide application to demolition or repairs of existing elements should be accounted for. Your estimate could run to 30 or 40 items or more. It will list every feature to be purchased and work to be accomplished, such as electrical, gas, plumbing, soils and grading, sprinklers, structural engineering and more.
It's a Learning Process
Seventy-five questions can seem like a lot, and it's going to take even more time than what you've invested reading this article. But it's the right way, the only way to start the learning.
Every design/build WaterSpace is a learning process for homeowners and their designer. You'll learn more about the features and design elements that will bring you the greatest satisfaction. Your designer learns about the unique characteristics of your space and develops a deeper understanding of your preferences and vision.